James Rodney Moore
Staff Sergeant
A CO, 9TH ENGINEER BN, 1ST MARDIV
United States Marine Corps
16 August 1947 - 13 March 1978
Naples, Ontario County, New York
Panel 15E Line 120
The database page for James Rodney Moore
15 Sep 2007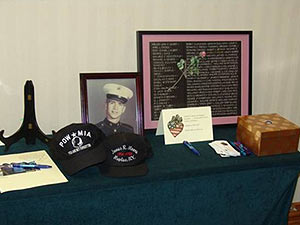 The attached photo is of our Memorial Table we set up for him at every reunion of the 9th Engineering Battalion.
The Naples, New York, VFW is named in his honor.
From a comrade-in-arms,
Eric Kenney
elk9theg@mchsi.com

A Note from The Virtual Wall
Alpha Company, 9th Engineer Battalion, was attached to the 7th Engineer Battalion at Danang. The 7th Engineer's Command Chronology notes that at 0800, 01 March 1967 a Marine from Alpha/9 was reported missing in action about 7 kilometers south of the Danang complex. No further information is provided. Corporal James R. Moore was carried as Missing in Action, and twice promoted in that status, until the Secretary of the Navy approved a Presumptive Finding of Death on 13 March 1978.
The DoD casualty databases for 1993, 1998, 2003, and 2006 give SSgt Moore's Home of Record as Ontario, Wayne County, New York - and all of them are wrong. SSgt Moore's actual Home of Record is Naples, which is located in Ontario County, New York.
---
With all respect
Jim Schueckler, former CW2, US Army
Ken Davis, Commander, United States Navy (Ret)
Memorial first published on 15 Sep 2007
Last updated 09/18/2012