Julio Victor Morales
Lance Corporal
K CO, 3RD BN, 5TH MARINES, 1ST MARDIV
United States Marine Corps
23 May 1947 - 13 May 1967
Philadelphia, PA
Panel 19E Line 110
The database page for Julio Victor Morales
30 Sep 2002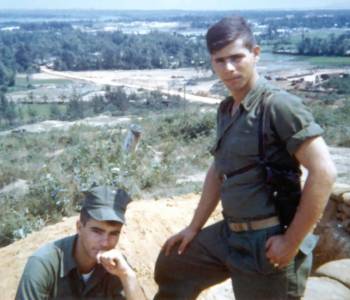 Paul Malboeuf and Julio Morales.
Courtesy Paul Malboeuf.
The following article is taken from The Philadelphia Daily News, special supplement entitled 'SIX HUNDRED AND THIRTY,' October 26, 1987.
The lance corporal enlisted in the Marine Corps in April 1966. Morales, an automatic rifleman, participated in seven combat operations with Company K of the 3rd Battalion, 5th Marines, 1st Marine Division, in Viet Nam before dying in Chu Lai, Quang Tin Province, on May 13, 1967. He would have been 20 years old in 10 days.
SEMPER FIDELIS, MARINE!
From a native Philadelphian and Marine,
Jim McIlhenney
christianamacks@comcast.net
05 Jun 2003

"No Marine was ever honored for what they received.
Honor is the reward for what they gave."
Anonymous

Julio Morales, We will never forget.
Semper Fidelis!

1st Plt, Kilo 3/5 Vietnam
Paul Malboeuf
bpmals@prodigy.com
29 Feb 2004

Son of Francisca Rivera and Julio Morales (deceased), he was the seventh of ten sibilings and is survived by his brothers and sisters Araneida, Julio Luis, Carmen Luz, Noraida, Palmira, Aida, Madelyn, Maria Mercedes and Julio Enrique(deceased). His nieces and nephews total 21 with 27 great nieces and nephews. He is gone but often thought of and his legacy and family will go on honoring his memory.

From a nephew,
Julio Cesar Morales
moralesjihs@yahoo.com

A Note from The Virtual Wall
Kilo 3/5 Marines lost at least three men on 13 May 1967:
---
With all respect
Jim Schueckler, former CW2, US Army
Ken Davis, Commander, United States Navy (Ret)
Channing Prothro, former CAP Marine
Last updated 08/10/2009