Tail number in photo is not the tail number of the aircraft he was killed in: EF-10B 125786. Unable to determine the unit where taken with but it may have been while he was stationed at El Toro. In 1950, El Toro was selected as a permanent Master Jet Station for the Fleet Marine Forces, Pacific. To support this new role, the aviation infrastructure at El Toro was expanded significantly. For most of the ensuing years, El Toro served as the primary base for Marine Corps west coast fighter squadrons. During the 1960s, many US Marines left for and returned from Vietnam at El Toro Marine Corps Air Station (MCAS).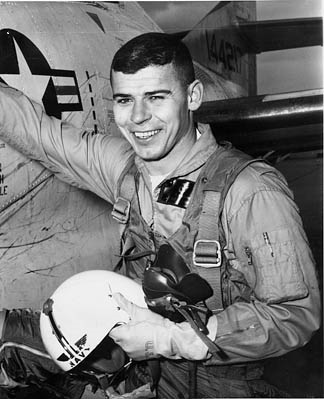 ---
Records show that Captain Murphy was killed when the Douglas EF-10B Skyknight, EF-10B, Tail Number 125786 prototype aircraft in which he was the pilot crashed approximately 36 miles at sea while on a routine test flight off the coast of DaNang, South Vietnam. The history of the aircraft and a photo of the aircraft next below. Notice the TN on tail number which indicates 1958 naming:
F3D-2 (F-10B) 125786
*1953: VMC-3.
*1/1956: Converted to F3D-2Q/EF-10B.
*1958: VMCJ-3 as "TN-23".
*1960-61: VMCJ-1 as "RM-xx".
*1967: VMCJ-1.
*3/24/1967: Crashed into the sea off Da Nang, South Vietnam. Both crewmen killed. The other member of the flight team was 2Lt Walter Leroy Albright, York, Pennsylvania.
---
---
Two newspaper articles on this page state his body was not recovered. Initialy he was reported missing, but his body was recovered and buried in Arlington National Cemetery, Virginia. His parents Elizabeth M Wheeler (1897-1986) and Edgar W Murphy (1893-1959), brothers Bernard (1921-1966) and David C (1923-2013) Murphy are buried in Fairview Cemetery, Copenhagen, Lewis County, New York while sister Marion Jeanne Murphy Wells (1924 - 2013) is buried in St Mary's Cemetery, Foxborough, Massachusetts.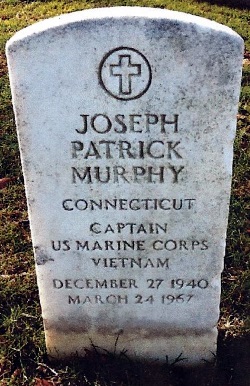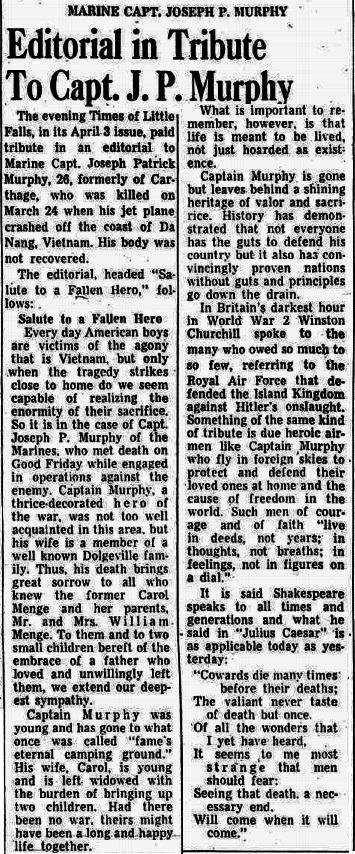 ---
- - The Virtual Wall, December 30, 2014