A Note from The Virtual Wall
The 4th Infantry Division's Operational Report for Feb-Apr 1968 includes the following regarding C Company, 1/12 Infantry, on 10 and 11 Fenruary:
"10 February: At AR829956 Company C, 1st Battalion, 12th Infantry made contact with an unknown size enemy force, 4 US WIA, 1 US MIA.

"11 February: At AR825959 Company C, 1st Battalion, 12th Infantry received 11 rounds of 82mm mortar and small arms fire, one US KIA, 14 US WIA, 1 US MIA."
The two men "missing in action" were found to have been killed by enemy fire:
PFC Arthur Hines, Grantville, GA (10 Feb)
PFC Michael Nemeth, South Amboy, NJ (11 Feb)
PFC Irving C. Pierce, Bridgeton, NJ (11 Feb)
The New Jersey Vietnam Veterans Memorial database contains the following entry for Michael Nemeth:
Michael Nemeth was born on November 14, 1944. His home of record is South Amboy, NJ. Michael attended Huffman High School (now South Amboy High School) in South Amboy, NJ.
Nemeth served in the US Army and attained the rank of Private First Class (PFC). He was attached to C Company, 1st Battalion, 12th Infantry, 4th Infantry Division.
Late in the afternoon of February 10, 1968, Michael's company, made contact with the NVA north of Kontum City. Twice they tried to maneuver against the enemy positions but were forced to withdraw due to the intense fire. On February 11, after another assault on their objective, they were airlifted to Dak To, taking with them three dead soldiers.
Nemeth was one of those soldiers killed in action on February 11, 1968.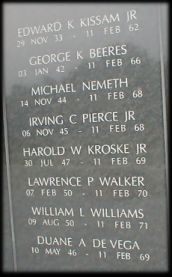 The New Jersey Vietnam Veterans Memorial has a separate panel for each calendar day of the year. The panel for 11 February is inscribed with the names of PFC Nemeth and PFC Pierce, as well as six others:
Edward K. Kissam, Captain USAF, 1st Air Commando Sqdn
George K. Beeres, SP4 US Army, B Co, 1st Bn, 5th Cavalry
Harold W. Kroske, 1LT US Army, 5th Special Forces Grp
Lawrence P. Walker, SP4 US Army, D Co, 2nd Bn, 47th Infantry
William L. Williams, CPL US Army, D Co, 1st Bn, 46th Infantry
Duane A. De Vega, SGT US Army, F Co (Rangers), 75th Infantry