Kenneth Pettus
Private First Class
H CO, 2ND BN, 4TH MARINES, 3RD MARDIV
United States Marine Corps
15 August 1948 - 30 March 1967
Philadelphia, Pennsylvania
Panel 17E Line 075
The database page for Kenneth Pettus
08 June 2003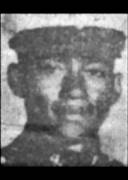 The photo and following article is taken from The Philadelphia Daily News, special supplement entitled 'SIX HUNDRED AND THIRTY,' October 26, 1987. The special supplement was issued in conjunction with the dedication of the Philadelphia Viet Nam Memorial.
"He was very proud to be a Marine," said the young serviceman's mother. The private first class attended Thomas Edison High School before joining the Marine Corps in May 1966. Pettus was assigned to Company H of the 2nd Battalion, 4th Marines, 3rd Marine Division. He died in Quang Nam Province, Viet Nam, on March 30, 1967. The 18-year-old rifleman was survived by his mother, five brothers and two sisters.
SEMPER FIDELIS, MARINE!
From a native Philadelphian and Marine,
Jim McIlhenney
christianamacks@comcast.net

26 May 2005

Today, this Memorial Day 2005, we remember you, our fallen brother. You have not been forgotten. May you rest in peace.

From his Corpsman,
Frank "Doc" Morelli
franknmarn@aol.com

05 Apr 2007

We miss you, brother ... love you.

Your brother,
Ali

Alfonso Pettus
2705 Wolf Street, Philadelphia, Pa. 19145
badgirl56@earthlink.net

A Note from The Virtual Wall
Eight men from Hotel 2/4 Marines died in an ambush on 30 March 1967:
Cpl Patrick Gallagher, Lynbrook, NY (Navy Cross)
Pfc Ronald E. Liberty, Chicago, IL
Pfc Clyde Mathews, Whiteface, TX
Pfc James S. Oldfield, Dallas, TX
Pfc Kenneth Pettus, Philadelphia, PA
Pfc James E. Price, Russellville, KY
Pfc Rocky R. Snyder, St Johns, MI
Pfc Robert J. Waltrich, Chicago, IL
---
With all respect
Jim Schueckler, former CW2, US Army
Ken Davis, Commander, United States Navy (Ret)
Memorial first published on 11 Jan 1999
Last updated 08/10/2009