December 10, 2014
Dennis R. Siverling enlisted in the Marine Corps on 18 August 1959 at the age of seventeen. Dennis had nine siblings, to include three brothers who also served in the Viet Nam conflict. His last tour in the Marine Corps was with Marine Medium Helicopter Squadron 261 (HMM-261). Dennis qualified as a crew chief on the squadron's Sikorsky UH-34D Seahorse helicopters. During the period Dennis was assigned to HMM-261, the squadron made deployments to Viet Nam either to land bases in I Corps or as part of the Special Landing Force (SLF) aboard the U.S. Navy helicopter carrier USS Valley Forge (LPH 8).
U.S. Marine Corps UH-34D SEAHORSE 1968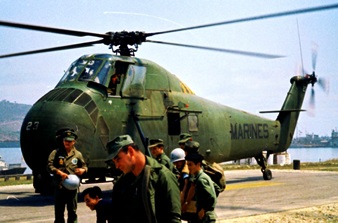 At the end of May 1965, South Vietnamese forces (Army/Ranger/Marine) suffered significant losses at the Battle of Ba Gia. Ba Gia (Quang Ngai Province) was about 20 miles south of Chu Lai (Quang Tin Province). The official U.S. Marine Corps history states that 392 South Vietnamese were killed or missing. In early July 1965 Ba Gia was attacked again, with significant South Vietnamese losses. On 03 July 1965, Sgt. SIVERLING, who had Vietnamese language training, assisted in the evacuation of Vietnamese civilians from the beleaguered Ba Gia outpost. Initially, it was a desperate "mob scene," but Sgt. SIVERLING was ultimately able to restore calm and played a significant role in the orderly evacuation of the Vietnamese civilians. In August 1965, HMM-261 participated in Operation Starlite, the first regimental-size battle that U.S. forces participated in since the Korean War. The enemy force was the 1st People's Liberation Armed Forces (PLAF)/Viet Cong (VC) Regiment. ((Note: The October-November 1965 Ia Drang Valley Campaign was fought against People's Army of Viet Nam (PAVN)/North Vietnamese Army (NVA) units.))
Sgt. SIVERLING was wounded in the abdomen on 03 February 1966 while he was participating in the Marine Corps' Operation Double Eagle, which was fought in southern I Corps (Quang Ngai Province) in conjunction with the U.S. Army's Masher/White Wing, which was fought in northern II Corps (Binh Dinh Province). Marine Corps records show that Sgt. SIVERLING was wounded during operations in the vicinity of Van Ly, Quang Nam Province. Some news accounts state the incident area was about three miles to the northeast of Van Ly, in the vicinity of Thach Tru.
Generally, the SLF was composed of an infantry battalion landing team (BLT), a composite helicopter squadron, and U.S. Navy ships. The SLF participated in both combat and pacification operations. One of the Army units participating in Masher/White Wing was the 3rd Brigade of the 1st Cavalry Division (Airmobile), commanded by newly-promoted Col. Harold G. MOORE, who had commanded the 1st Battalion, 7th Cavalry at the 14-16 November 1965 battle at LZ X-Ray.
Dennis was a patient in various military hospitals and in the VA hospital in Minneapolis. He eventually settled in his hometown of Ladysmith, Wisconsin. Although he suffered paralysis, he bought a small farm and learned to drive a tractor with just his hands. He also learned to snowmobile. One of Dennis' brothers, Randy, said: "He did not want anybody to feel pity for him." Dennis died from his wounds on 18 January 1976.
In addition to his decorations above were 8 more Air Medals and the Navy/Marine Corps Combat Aircrewman's Wings.
At the time of his death, Dennis was survived by: parents Edith L (1920-2012) and Walter L ( -1985) Siverling; and 6 siblings, Tom, Chuck, Pat, Randy, Eugene "Bruno" ( -1982), Lou Ann; and many nieces and nephews and cousins. He was preceded in death by: two brothers, John ( -1968) and Jeff ( - ); and one sister, Dorothy ( -1967).
He is buried with his parents and siblings in Riverside Cemetery, Ladysmith, Wisconsin.