Joseph Ewing Smith
Sergeant
4TH MOBILE STRIKE FORCE, DET B-40, 5TH SF GRP, SPECIAL FORCES
Army of the United States
13 March 1946 - 05 September 1968
Corsicana, TX
Panel 45W Line 045
The database page for Joseph Ewing Smith
28 Mar 2004

Joe was my good friend growing up in little Corsicana, Texas - my boyhood friend and steady companion. He was awarded a Silver Star for his actions while a medic with the 5th Special Forces Group. His photo should be on this memorial site. He gave his all.

Bob Garlington
bgarlington@wbinsurance.net
A Note from The Virtual Wall
Sergeant Joseph Smith was a medic with the 4th Mobile Strike Force Command, based out of Can Tho. Available evidence indicates he was wounded in the vicinity of Nui Co To, one of the "Seven Sisters" hills in Chau Doc Province. The date of his injury is not known.
Visit John Dennison's
Medics on the Wall
memorial which honors the
Army Medics and Navy Corpsmen who died in Vietnam.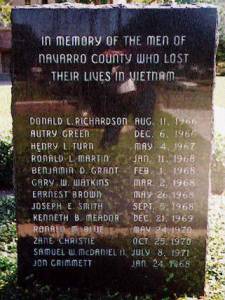 The Navarro County, Texas, Vietnam Memorial
---
With all respect
Jim Schueckler, former CW2, US Army
Ken Davis, Commander, United States Navy (Ret)
Channing Prothro, former CAP Marine
Last updated 08/10/2009