Mike entered the United States Army in April, 1967. After training, he began his first tour of duty in South Vietnam on September 6, 1968, assigned to the 25th Infantry Division.
The following December, Mike was awarded his first Bronze Star Medal for valor in combat. Soon thereafter, Mike received two more Bronze Star Medals and the Silver Star Medal for gallantry in action.
Mike Smith was killed in action in Binh Duong Province on April 12, 1968, and now sleeps in New Haven Cemetery near Sumner, Michigan.
Mike is remembered with love and pride by his classmates from




"Tucking myself in at NAS Pensacola,
I heard the sound of TAPS each night.
When everything was still
I listened to the bugler play
And I always felt a chill.

I always wondered how many times
That haunting TAPS had meant "Amen";
When a flag had draped a coffin of a
Husband, brother, sister, son, dad, or friend.

I thought of all the children,
Of the mothers and the wives,
Of the fathers, sons and husbands
With interrupted lives."

~ Original Author Unknown
Adapted by NJG,
US Navy Wife, US Navy Mother
---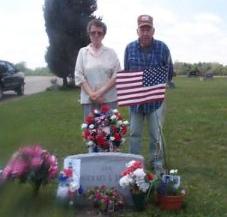 Mrs. and Mrs. Lavern Smith at Mike's grave,
Memorial Day, 2001