Richard, Judy & Joni Mabe (1965)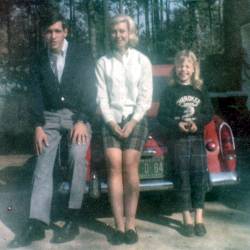 My Memories of Richard Sutter and the Mid-1960s
Richard Sutter was the boyfriend of my older sister, Judy. I believe she met him when she was 17, probably the summer after she graduated from South Habersham High School in 1965. She turned 18 in August of 1965.
They met at Lake Burton in Northeast Georgia. The Sutter family and our family both owned cabins on the lake and we spent our summers there. I remember Richard standing in our kitchen leaning against the long bar talking and laughing. He was tall, thin, had dark hair and was well built. He was definitely my idea of the phrase, "tall, dark and handsome."
My mother stated that Richard loved creamed potatoes and whenever he ate supper with us, he insisted that we have them. He even peeled and diced the potatoes for my mother to cook. From the first time we met him, he seemed confortable around our family and friends. He wasn't the least bit shy and was interested in learning about our family and relatives.
My sister, Judy, is ten years older than me. Back in the mid-1960s I always wanted to do the things that she did, wear the same clothes, hang out with her friends and listen to her music. Our aunt and uncle, Bobby and Sara Maude Ricketson from Marietta, GA, also had a cabin on Lake Burton. Judy and our cousins, Robin, Sallee, and Hope, were all close to the same age and I was the "tag-a-long." We had great times, swimming, skiing, sun bathing, picking black berries for a pie and eating at LaPrades. But the highlight of each weekend was going to Mountain City Playhouse. It was a building the size of a gym, with a stage, concession stand, rest rooms and bleachers. Operated by the American Legion, it was located just north of Clayton, GA. During the summer months a "live band" played and people of all ages came to "buck" dance, watch, drink beer in the parking lot and mingle. It was the place to be on Saturday night.
Preparing for the Saturday night date was an event in itself. At 5 o'clock all activities stopped on the dock and everyone rushed to the cabin to get ready. Judy and our cousins rolled their hair with big pink rollers, taking turns under the hair dryer. They wore Bobby Brooks plaid shorts with a John Romain belt (size 20-24) and short sleeve blouses to match. They had John Romain pocketbooks, headbands and wore brown weeguns. A lot of teasing and hair spray went into the hair and the make-up was just perfect. I followed suit and wore the same thing - just in a smaller size - but my hair was usually in pig tails with bangs and I didn't wear make-up. I didn't have a date either, but that didn't stop me from primping.
The country band played "Down Yonder" and "Rocky Top" for everyone to "buck" dance; then they had a "caller" for the square dances. For slow dances they played a couple of Ray Price classics. Back then we heard "Release Me" and "Don't You Ever Get Tired of Hurting Me." They played the "Bunny Hop," starting out slow and getting faster and faster until no one could keep up. One rock-n-roll tune was played and I remember doing the jerk, swim and the monkey! I was 8 years old.
One of the square dances, called the "Wind Up," started out with everyone in a huge circle. One man broke off and started circling on the inside, until he had wound all the way into the center. At that point, he turned backwards and started circling back in the opposite direction. Everyone was stretching to hold on and running to keep up. Someone came around the circle going the opposite direction and knocked my feet out from under me. Letting go of the persons' hands in front and back of me, I fell, hitting my head on the hardwood floor. I was trampled and kicked several times before I was rescued. It was Richard who picked me up and carried me in his arms to the stands where my parents sat. I was amazed that he had seen me on the floor in the middle of such a huge crowd. He must have been watching out for me. I sat there crying and didn't dance the rest of the night. I was crushed that I couldn't keep up with the rest of the grown-ups but at the same time flattered that my big sister's boyfriend had carried me in his arms to safety.
Richard Sutter on the left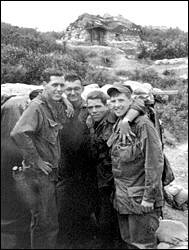 I was ten when Richard was killed in Vietnam. My sister was 19, almost 20. My parents and Judy attended the funeral in Atlanta, but they did not take me. Maybe they thought I was too young. It was their first time attending a Catholic funeral. It was a sad time. No one said much in our household; we were raised not to show too much emotion. Judy went to stay with her cousins.
For years Judy wore a beautiful gold ring with a large, oblong ruby that Richard had sent her from Vietnam. About 10 years ago the stone fell out. She discovered it was missing after returning from work. We searched in her car, partically taking it apart. We retraced her steps that day, returning to the gas station and her place of work. Judy, crying, combed the backyard and driveway with a flashlight until late at night. But the stone was never found. Judy was heart-broken, again.
My family and I will always have a place in our hearts for Richard Sutter. I know each member of my family has wonderful memories of him, especially my sister. Because I was so young and these events took place over 30 years ago, I have only a few recollections which makes them even more precious to me. I will never forget him and the price he paid for our country.