6 Dec 1997
My dad is SFC Delbert Chan Totty. He was born in Wheeler, Texas on August 27, 1928. He was the youngest son of 9 children, 5 boys and 4 girls. My Dad's family began their migration to Kern County in California during the Dust Bowl, "Grapes of Wrath".
In 1948, at the age of 19 my dad joined the Army. He served in Ft. Kobbe, in the Panama Canal Zone. While stationed in Panama he met and married my mother, Cynthia. My sisters, Della, Linda, and I were born in Panama. Shortly after my birth we moved to Ft. Riley, Kansas where my brother Del was born.
We moved to Kern County, while my dad served a 13 month tour in Korea. When my dad completed his tour in Korea, we moved to Ft. Knox, Kentucky and then finally to Ft. Ord, my parent's favorite Army post, in beautiful Monterey, California. My youngest sister, Trudy, was born while we were living in Ft. Ord.
Our next adventure lead us to Munich, Germany for 3 years. We left Munich in November 1965 and returned to Ft. Ord, a few months later my dad received his orders for Vietnam. My dad moved us off base to Napa, California, where my parents bought their first home. My dad bought the home with the dreams of retiring there some day.
My dad arrived to Vietnam on August 8, 1966. His base camp was at Phouc Vinh in the III Corps, aka "The Iron Triangle". He was assigned the duty of Platoon Sergeant for B Company, 26th Infantry, 1st Division. He had the honor of serving under LTC Alexander Haig, Jr., and CPT George Joulwan. Both of these men later served as the NATO Supreme Allied Commander in Europe, General Haig from 1974-79 and General Joulwan from 1994-97. General Haig also served as Secretary of State after his retirement from the Army.
My dad heard of my baby brother Robert's birth via the Red Cross. The young men in my dad's Platoon threw a party for him while they were in the boonies. Eleven short days later, my dad was dead.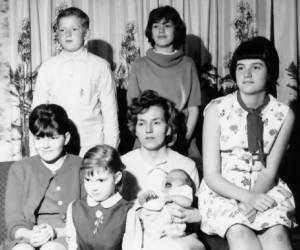 Mrs. Cynthia Totty and family
Mrs. Cynthia Totty and her children holds her 2 week old son, Robert, and is surrounded by her five other children Della 14 (RT.), Linda 13 (LF)- Trudy 4, Delbert 10, and Patricia 12. She learned Sunday that her husband, an Army Platoon Sergeant, was killed in combat in Vietnam, PSGT Totty left for Vietnam 8 months ago. (Register Photo)
---
Please visit my complete memorial on the
Sons and Daughters in Touch
site.