5 Aug 2001

Husband of Marie,
father of Sharon, Wanda, and Brenda.

Died 1 September 1968,
Clark Air Base, Republic of the Philippines,
of wounds received in Southeast Asia.
REMEMBERED
---
"Paul Yonkie was a flight engineer on C-141s, stationed at Charleston AFB, SC. He was on a classified mission for the purpose of bringing home two POW Air Force officers who were being released by the North Vietnamese if the officers were inclined. The officers selected commercial travel, however. The crew was preparing the aircraft for departure from Udorn, Thailand, when a communist sapper attack took place. Paul was hit in the stomach with grenade fragments and was flown to Clark AB in the Philippines for medical attention. After several operations and 5 weeks Paul passed away. I was at Paul's side when he died."

Bruce Cook, SMSgt USAF (Ret)
---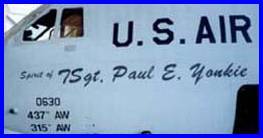 Almost thirty years to the day after his death the Airlift Wing at Charleston AFB, SC, dedicated a C-141 to Paul Yonkie. They call it "The Spirit of TSgt Paul E. Yonkie". His widow and daughters were in attendance.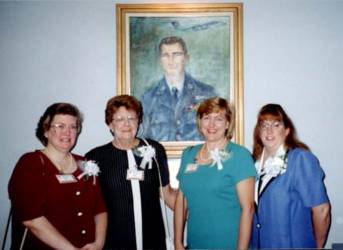 Daughter Brenda, wife Marie, daughters Sharon and Wanda
in front of a portrait of Paul Yonkie, Charleston AFB, SC.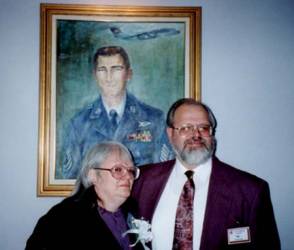 Sister Pattie, brother Clyde.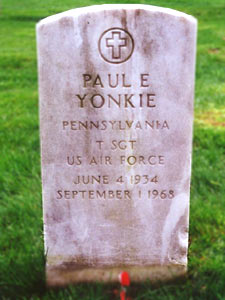 ---

From his wife,
Marie Cook
bmacookie@aol.com