After a year at the United States Military Academy (USMA) Preparatory School, then located at Stewart Air Forceb Base, New York, Jerry Capelle entered West Point as part of the Class of 1958 and took his oath as a cadet on the "Plain of West Point.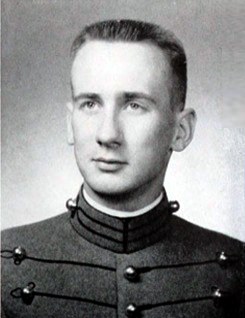 Although Jerry was serious-minded and conscientious as a cadet, he was a relaxed individual, and never lost his fine sense of humor. He met his bride-to-be, the former Arlene Caroline Dill, from nearby Newburgh, New York on one of his weekends off from the Academy. They were married right after Jerry graduated from the academy and he was assigned to Fort Benning Georgia for infantry training. You may read some of the eulogies posted for Gerry at the West-Point dot Org website.
After the Infantry Basic Officers Course and after Airborne and Ranger Training, Jerry was assigned to the 1st Battle Group, 20th Infantry at Fort Kobbe in the Canal Zone. It was there, on 21 May 1959, that his son Jeffrey Scott was born. By the time they departed the Canal Zone in May 1962, Jerry had become a "jungle expert," and the designation was a source of genuine pride to him.
From Panama, Jerry was named to attend the Infantry Career Course, and the Capelles moved back to Fort Benning. After the Career course, Jerry's next assignment was with the 101st Airborne Division, at Fort Campbell, Kentucky when in June 1964 he received orders for Vietnam. There he became Senior Advisor to the Vietnamese 52nd Ranger Battalion.
In January 1965, he was awarded the Silver Star for his action during an attack on his battalion - read news clipping below; and when his Vietnamese Ranger battalion went into heavy contact (some observers from that time noted that it may have been that the Viet Cong knew when and where they were coming from the beginning) on 1 April 1965, he was killed trying to save the life of a fellow adivsor.
There were 4 american's who died as a result of that contact. They were:
At the time of his death, he was survived by his wife, Arlene Caroline Dill Capelle, Newburgh, New York and son Jeffery S., parents Ida Elizabeth Pfefferkorn Capelle (January 12, 1911 - May 17, 2004) and Carl H. Capelle (June 27, 1910 - May 30, 1972), and sister Joan, all of Fond du Lac, Wisconsin. He was also survived by his mother and father in law, Mr. and Mrs. Richard Dill, Newburgh, New York. The funeral notice was posted in local Wisconsin papers and his funeral was on April 8, 1965.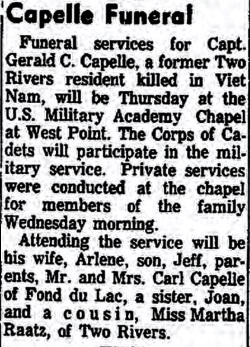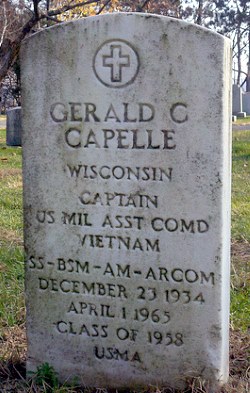 Marker Photo used with permission
FindAGrave Monica Stephan, #47370961
You can also read about the Gerald C Capelle Trophy presented annually at the US Military Academy Prep School for the Candidate Company winning the year long intramural competition.
In May 1965, his medals were presented to his wife and son.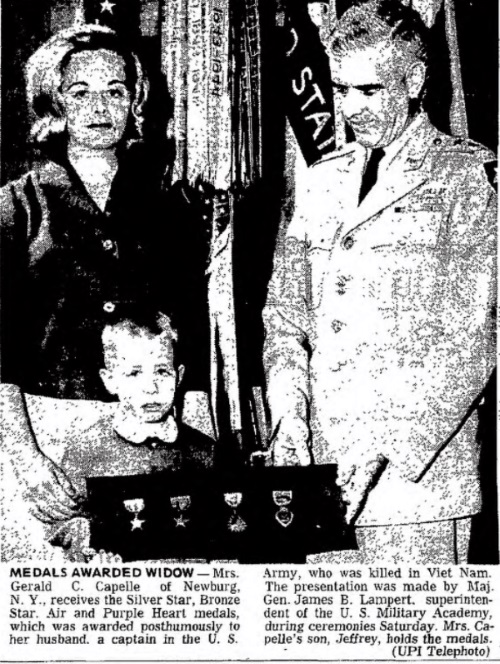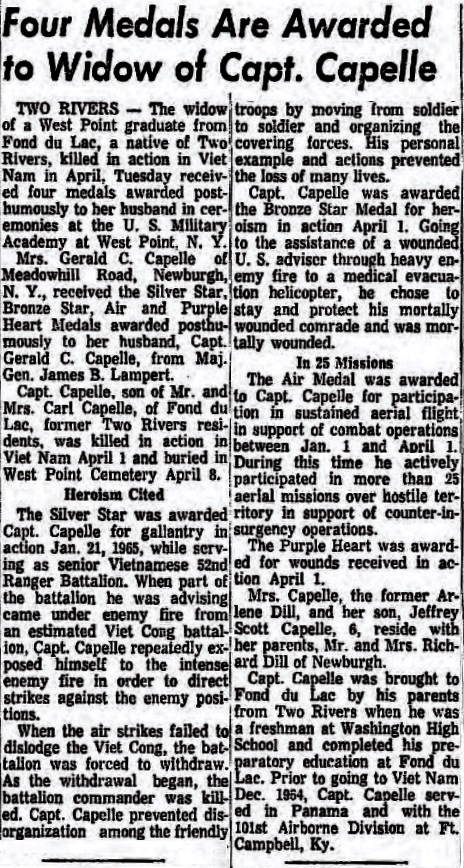 ---
- - The Virtual Wall, October 23, 2014