Gunner's Mate, Third Class Richard Alan Cheek was awarded the Bronze Star for heroic achievement on 15 September 1967 during action against communist insurgent (Viet Cong) forces in the Mekong Delta region of the Republic of Vietnam. As 20mm gunner aboard Monitor 111-2, a unit of River Assault Flotilla ONE, operating in support of the 2nd Brigade, 9th United States Army Infantry Division, Petty Officer (then Seaman) Cheek participated in a riverine assault against the Viet Cong stronghold in the Cam Son Secret Zone.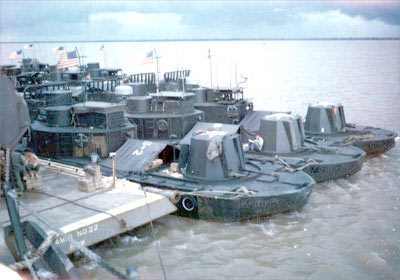 His unit's task was to provide covering and neutralizing fire for army troops embarked in the accompanying assault craft. While proceeding up the Rach Ba Rai river to the designated landing zone, the assault-force units were suddenly subjected to withering enemy automatic-weapons, recoilless-rifle, and rocket fire from heavily fortified positions on both banks of the river.
During the ensuing fire fight, Petty Officer Cheek calmly and accurately directed his fire into the enemy positions and succeeded in neutralizing several of the bunkers on the bank. When his weapon jammed, he immediately, and on his own initiative, transferred to an unmanned thirty-caliber machine gun in the coxswain's station of his boat, and continued to lay down effective fire against the enemy until he succumbed to fatal wounds inflicted by an enemy B-40 antitank grenade which fell at his position.
There were 5 men killed in action during this enemy contact. They were:
At the time of his death in Vietnam, Richard Allan Cheek was survived by his wife, Charolet Arlene Cheek, who was living with her parents, Mrs and Mr. Charles Lingel of Byron Illinois. He was also survived by his parents, Marion Harriet Scarf, Rockford, and Allen Lester Cheek (1921-1999) , Oregon, Illinois. His father passed away on March 13, 1999 in Oregon, Illinois and is buried in same cemetery as Richard. According to ancestry records, he was also survived by a sister and brother.
Richard is buried with his paternal grandparents, Viola and Melvin William Cheek in North Grove Christian Cemetery, Egan, Ogle County, Illinois.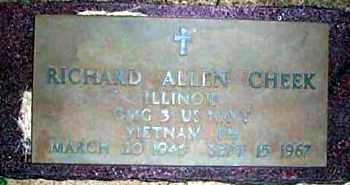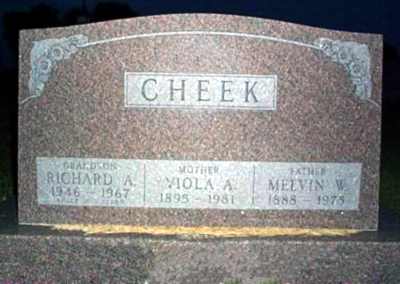 ---
- - The Virtual Wall, May 27, 2016