Biography -
Colonel Finney graduated from Berea College in 1948 with a B.S. in Business Administration. He was also a volunteer fireman on campus. Born in Canmer, Kentucky, he joined the Air Force after graduating from Berea College.

Arthur Thomas Finney was born 26 June 1928 to A.C. Finney and Elizabeth Pearl Finney. He was from Canmer, Hart County, Kentucky. He had attended Memorial High School in Hardyville, Kentucky. He came to Berea at the age of 15 in 1944. He went through the Lower Division and took Summer School until he entered the Upper Division in 1946. He graduated in 1948 with a B.S. in Business Administration. While at Berea he was a member of the Berea Players, the YMCA Cabinet, the Economics and Business Club, the "B" Club, and did Cross Country, Varsity Tennis and Track .


According to the Berea Citizen newspaper, schoolmates of Finney's remembered him for his talent on the piano, which he often played, as well as working for the Chimes as a labor position while at Berea. He also served as student chief of the Berea College Fire Department.
After he graduated, he joined the Air Force and took his pilot training in Texas and Nevada. He learned to fly the P-51 Mustang, T-33 jet trainer, F-80 Shooting Star, and the F-86 Sabre, which he flew in 101 missions in the Korean War. At the time he and his family were living at Luke Air Force Base in Arizona.
After that, in Texas he was an exchange officer with the US Navy working from the USS Kearsage, flying Navy Cougar and Panther jets. In 1961 he moved to Virginia, where he was working in the Pentagon. From 1962 through 1965 he was stationed in Australia, as the Assistant Air Attache at the US Embassy. There, as an Air Force Major and a diplomat, he met Queen Elizabeth and Prince Philip. From that assignment, he returned to the US to George Air Force Base in Victorville, California, where he was the Squadron Commander of the 476th Tactical Fighter Squadron (TFS) and flew the F-104 Starfighter. In July of 1966 he left for Vietnam for assignment to Udorn Air Base in Thailand.
On his third mission over Vietnam, on August 1 1966, he was hit by a SAM missile. His wingman said that he saw him eject, and that he had a good parachute. That was the last time he was seen, and he was listed as MIA. When the POW's were released in 1973, he was not among them, and no POW recalled him.
His wife Peggy had his status changed to KIA in 1974 and she and her two children moved to Las Vegas. She passed away in 1981, without knowledge of what happened to him.
In 1985, the Air Force contacted his oldest son, informing him that the North Vietnamese were releasing 26 sets of remains, and his was among them; the US Army Central Identification Lab in Hawaii confirmed his remains were among the 26 sets on October 24, 1985 . His family held services for him in Las Vegas where he was buried next to his wife.
Note from son A. Thomas Finney II: "My Dad is buried in Las Vegas, Nevada, at Palm Memorial Park on Eastern Avenue. He is right next to my Mom, his wife Peg [Nancy M Finney]. That statue in the photo [below] is about 50 feet northeast of their headstones. It signifies the section they're buried in, Garden of Resurrection."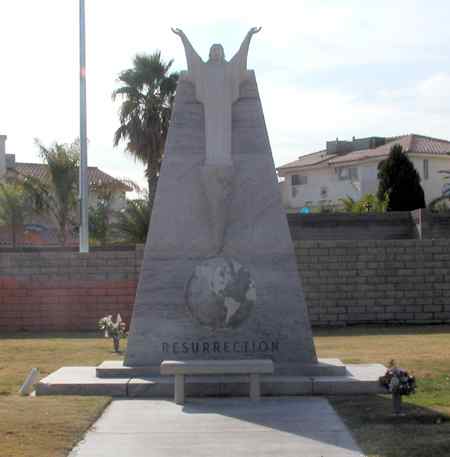 Full military honors were given, with an Honor Guard, a Three-Volley salute (3 volleys of 7 rifles for a total of 21 shots), and a "Missing Man" flyover. His eldest son delivered his eulogy. He was an excellent pilot who had 4,900 hours of flying time on 36 Air Force and Navy aircraft.

He has a plaque at his High School, a plaque on a tree in Victorville, a cross in Berea Baptist Church, and he received many medals and awards including the Silver Star. Peggy had a marker placed where he first learned to fly in Nevada. He was promoted to full Colonel after his death, and his family received a letter from Ronald Reagan. The US flag also flew over the Capitol Building in Washington, D.C. for a day in his honor.