27 Feb 2005

Cpl. Frank Fisher was my cousin. He grew up just down the road from me in Patchogue, Long Island. I was 11 years younger than Frankie and although I went on to have two younger brothers and two younger sisters, he was the older brother I never had. Frankie was a 1965 graduate of Patchogue High School where he lettered in soccer as a goalie. He was a Life Guard at the local beaches during the summer and has always been remembered as a handsome boy who loved the girls. Frankie was the only child of Daniel and Veronica Fisher. My cousin graduated from Boot Camp in December 1965 in Platoon 1010. He went on to Infantry Training as an 0311 Rifleman. Before serving in Vietnam, Frankie served for 6 months with Security Forces at Guantanamo Bay, Cuba.

On the day we were notified that Frankie was killed, it was a hot summer day during Summer Vacation, I recall hopping over the fence in my side yard and running into the woods across the street ... that same woods where I would play during earlier days when I would see Frankie walking by with his buddies and he'd shout out to me to walk with them down the street and I would feel like a big shot ... and I cried and cried and cried. Why? Why did my cousin have to die? But even then I knew what being a Marine meant. I knew that he might die. But I loved him then and I love him now ... and God loves him. I went on to serve in the U.S. Army and did so in honor of my cousin.

Today, as I write this letter, my son, L/Cpl. Mario DeLucia, is serving as a Rifleman in Iraq with India Company, 3rd Battalion, 2nd Marines. My son never met my cousin, but he knows him. He serves in his honor and I pray every day that Frankie is watching over him ... ever protective ... ever vigilant ... Always Faithful!

The following is a series of exchanges, the last between Frankie and his mother:

August 25, 1967

Dear Mom & Dad,

I got your letter today. I don't need anything but the little Brownie camera. I'll need some film too, so could you send it as soon as possible? They don't have color film over here, and it's real hard to get just plain film. I want to take as many pictures as I can, and I haven't done it up to now, so I want to do it now. You know, I can look back at them, and remember all the good times I had! (Ha Ha). If you can, would you send it airmail, so I get it as soon as possible. Ok?

Well, there's nothing new. I got paid $316 so I'm sending $300 home, so it will be about 2 weeks before I get paid again. I'm going to try to build up the money. I should have a little more than $1,000 when I get home (I hope).

There isn't much I can say. I'm fine, and doing great. It's still hot over here, but it's not bad. I have less than 90 days, and I'll be ready to go home. So, it won't be long now. I got to go for a swim now.

Your Marine
Frank

Monday, August 28, 1967

Dear Son,

I'm writing again, even though I haven't heard from you since August 9th.

I hope everything is alright. I miss you so. You've been gone such a long time. It seems like a lifetime. Write me if you get the chance. It's a little easier when there's a letter from you.

Rebel is fine, and so are her kittens. They are so cute. Irene is taking the red female, and I'm going to keep the all black male. So, I just have the other red male. But I told Dad I'm not giving it to anyone I don't think will give it a good home. When they get older, I'm going to have Rebel altered or whatever they call it. She's a real street walker, and I'd have a batch of kittens every few months. Tar just looks at them, but I think he's a little afraid of them. They are only 2 weeks old.

Aunt Harriet is coming along fine. Agnes's house is coming along fine too. It should be less than 2 months before they can move out here. Then Dad is having the extension put on our kitchen. I want it all nice for when you come home. I hope the time goes fast, and without any mishaps. But God is good. He'll watch out for us. So take care of yourself. I need you. Until next time -

All Our Love and Prayers,
Mom and Dad

P.S. Don't forget to tell me if you need anything. I'll send it right away. Love, Mom
WESTERN UNION TELEGRAM
August 30, 1967
4:02 pm
Mr. and Mrs. Daniel Fisher - Report Delivery - Don't Phone
50 Wilmarth St. Patchogue NY
I deeply regret to confirm that your son, Corporal Frank C. Fisher USMC died on 27 August 1967 in the vicinity of Quang Nam, Republic of Vietnam. He sustained fragmentation wounds to the head from a hostile explosive device while on patrol ... I wish to assure you of every possible assistance and to extend the heartfelt condolences of the Marine Corps in your bereavement.
Wallace M. Greene Jr.
General USMC
Commandant of the Marine Corps
So, Frankie never got to use his Brownie to take the pictures he so much wanted to be able to reflect on in the future years.
He never saw Rebel's kittens, or the frightened look on his dog, Tar's face.
He came home, but not to a $1,000. savings. Instead, in a flag draped casket amidst the fragrance of cut flowers, a Marine Corps Honor Guard, and many spilled tears from those of us who loved him so.
To his mom, the time between letters seemed like a lifetime. If she only knew how ironic those words would become.
I welcome any details regarding the fate of my cousin that your researchers may shed light on. If any fellow Marines of Bravo 1/1 knew Cpl Frank Fisher or knew of him, please contact me. I'm still looking for closure after all these years.
Mario DeLucia
iptf@aol.com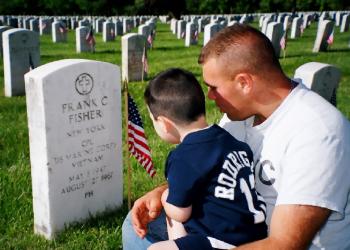 Frank Fisher's gravesite,
Section T, Site 2098,
Long Island National Cemetery,
Farmingdale, New York.


---
Earlier today I received a cryptic e-mail stating simply "I was there when he was killed. e-mail me back for more info." It was signed "Sgt. Doyle Clark". The subject on the e-mail is what prompted me to open it in the first place. It was entitled "Frank Fisher".
I sent an immediate reply to Sergeant Clark with my telephone number attached. Then I sat by and waited for the phone to ring. My 10 year old daughter answered the phone quickly, as most kids do. "Dad, it's Sergeant Clark" she said. I took the call in my room where I wouldn't be disturbed. The voice on the other end of the phone seemed frail, uncertain and somewhat uneasy.
"Hello Sir. This is Sergeant Clark. I've waited almost 38 years to talk about Frank..."
With the respectable tone that one gets with time served in the military, and a distinct Oklahoma accent, Sergeant Clark went on to tell me about the day that my cousin Frankie was killed.
Frankie was the Squad Leader on this particular patrol. There were a dozen or so men with him. Sergeant Clark was a machine gunner who was along because of the shortage of machine gunners assigned to the unit. He was cross-training some of the riflemen with the machine gun. Bravo Company 1st Battalion, 1st Marines was located at a base camp known as "The Island". Also on "The Island", a couple of miles away was an ARVN (South Vietnamese Army) base camp.
As Frank led the patrol into the jungle and through several rice paddies on "The Island" that day, they came upon a semi-destroyed house. They noticed several carambola trees in front of the house loaded with fruit (star fruit). So, since it was around noon, the patrol took a break and the Marines sat and ate the fruit. It was during this time when Sergeant Clark began to chat with Frank. It seemed that Sergeant Clark had spent some time at the U.S. Naval Hospital in Yokosuka, Japan before his deployment to Vietnam. He had only been "in country" for 2 months before this patrol. Frank had just returned from convalescent leave in Japan where he had undergone surgery to correct a dislocated shoulder he had suffered earlier on his tour in Vietnam. The two Marines talked about their common interest in Japan for the time as they sat in front of the house. After the men on the patrol ate several star fruit each, they resumed their duty. Frank led the patrol into the jungle toward the ARVN camp. At one point the path split with one part leading around the camp and the other leading more directly toward the camp. Frank took the most direct path. As they approached the perimeter of the ARVN camp, Frank unknowingly wandered into an ARVN mind field. Since the South Vietnamese Army were considered our ally in Vietnam, the mines used to fortify their base camp were supplied by the United States. Frank tripped a mine commonly called a "Bouncing Betty" which is designed to pop up to crotch level and blow the legs out from under the enemy. Sergeant Clark was the fourth one in line in the patrol. He recalled seeing the explosion and the Marines going down as they were hit with the flying shrapnel. The only way he was able to describe why the 3 men in front of him were hit and several behind him also hit, but leaving him without a scratch, was that "God must have been with [him]".
Sergeant Clark explained that he pulled back one or two of the wounded men and ordered the other men in the patrol to stay put because of the mine field. He could see Frank ahead and for almost 38 years he has been haunted by his cries.
"Mama! Mama!" Frank called out to his mother. With his left hand gone, traumatically amputated in the explosion, and severe head wounds, Frank continued to call out to his mother. With the mine field still very much a threat, the Marines on the patrol were helpless and could do nothing to help. Sergeant Clark recalled that his cries lasted for five to ten minutes before Frank succumbed to his wounds. Sergeant Clark and the other men on the patrol called back to the base camp requesting a reactionary force to respond to the incident. At that time there were several Marines wounded and two were killed. Along with Frank, a kid from Baltimore, a Lance Corporal named Bill Mignini was also killed.
When the reactionary force arrived it was led by a young 2nd Lieutenant, just married, named Cliff Robertson, a California native just shy of his 23rd birthday. Sergeant Clark recalled how Lt. Robertson's young bride would send care packages to the men of the squad. Despite warnings by Sergeant Clark and the other men on the ill fated patrol to stop and wait before proceeding, Lt. Robertson and his reactionary force proceeded into the mine field to assess the situation and evacuate the wounded.
There was a pause in the telling of the account at this point by Sergeant Clark. Choked up and trying to hold back tears, he apologized to me and asked me to forgive him. He again explained that he hadn't spoken of this incident in almost 38 years and was finding it difficult. He composed himself and continued.
He related that the Lieutenant's advance into the mine field had caused several other mines to detonate. Lt. Robertson had been killed along with two Marines from his reactionary force. Corporal Ray Fort, from Carlisle, Arizona and Corporal John Jensen from Espanola, Washington were also killed.
Sergeant Clark recalled that is was at this time that the Hospital Corpsman responding with the reactionary force, a young black Sailor whose name escaped him over the years, began running to the wounded Marines, pulling them away from the mine field and rendering first aid. However, this caused several more mines to detonate, wounding the Corpsman.
Sergeant Clark paused at this point. After several seconds, I asked "Is everything OK?" I was prepared to give Sergeant Clark as much time as he needed to tell his account.
"You know what was so ironic that day?" he asked. "While all of these mines were going off, and all of these Marines were being killed and wounded, I remember laying in the berm of a rice paddy and looking up at a nearby hill watching as several ARVN soldiers rolled around pointing and laughing while our men tripped the mines. They were pointing and laughing! It took everything I had to not kill those guys where they stood."
It was late in the afternoon when the CH-47 (Chinook Helicopter) arrived to remove the wounded. As the men prepared to load the wounded onto the aircraft it seemed odd to Sergeant Clark that they would load Lieutenant Robertson aboard first. It was protocol to load any wounded before the dead. He recalled that shortly after seeing the Lieutenant's body brought aboard the aircraft, he observed the crew unload the body, sort of dumping it off the litter like it was trash. While he agreed that there was no disrespect intended by the crew of the Chinook, it was something that stuck in his head ever since that hot day in August of 1967. After all of the wounded were removed, the dead were also removed. The patrol was over. Five good Marines were dead and a dozen or so were wounded out of the 21 Marines present. At least one Marine would carry that memory inside of him for almost 38 years.
"I tried to think of ways to get in touch with Frank's family for years," Sergeant Clark explained, almost apologetically. "I just couldn't get it out of my head how he kept calling out for his Mama. It really bothered a lot of us that heard him that day."
I was horrified at the way my cousin was killed. And to know that he survived long enough to feel the immense pain that I'm sure matched the wounds he sustained was even more disturbing. But despite all of that, knowing that his mother was the last thing he thought of, and that his last words were the cries "Mama" was somewhat bittersweet because I happen to know that Frank and his mother were exceptionally close. My aunt loved her only child with an adoring love and pride that was envied among anyone that knew them. And Frankie would do anything for his mother. For years after Frankie's death my aunt never disturbed his room. She kept everything in its place. The high school letter, the varsity jacket, the picture of his girl, the assorted books and comics that lay on his dresser all remained intact for some time. I recall going down to her house to visit as a kid and it was almost as if Frankie was going to appear from behind the door of his room to throw me onto the couch and give me a "noogie" on my head.
Sergeant Clark ended his telephone conversation by thanking me for allowing him to get these memories out into the open. He seemed relieved and I was thankful to him for the closure that he was able to give to me. I hope to keep in touch with this man who last spoke with my cousin as they both sat under a tree and sucked on star fruit. I'll forever love and admire my big cousin, Frankie Fisher...well, just because he was my big cousin and because he was my best friend. It's because of this man, Sergeant Doyle Clark from Oklahoma, that I will never forget the other men who lost their lives that day. L/Cpl. William D. Mignini of Baltimore, 2nd Lt Clifton B. Robertson of Los Angeles, Cpl. Raymond Fort of Arizona and Cpl. John A. Jensen of Washington State.
I'd like to thank the un-named Hospital Corpsman who tried valiantly to save the lives of the wounded Marines that day.
Godspeed to all the brave men of Bravo 1/1 who fought in the name of liberty and freedom on that hot August day in 1967. Semper Fi!
Mario DeLucia


---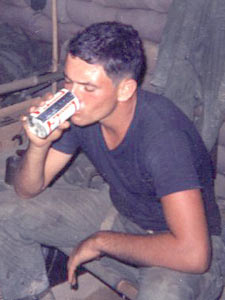 Frankie shortly before the day of the patrol (August 1967)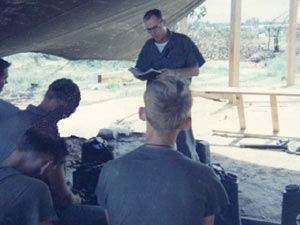 Church Service the morning of the patrol (August 27, 1967). The upper right of the picture, off in the distance, shows what looks like a bar of white sand. That is in fact the ARVN camp where the incident took place. I'm not certain if Frankie was present at the Church Service, but based on what I know of him and my aunt, he would have attended.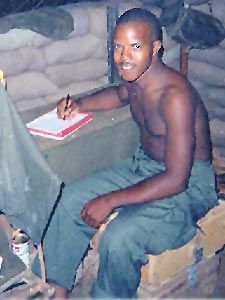 "Doc" Drake, Bravo 1/1, on Go Noi Island, 1967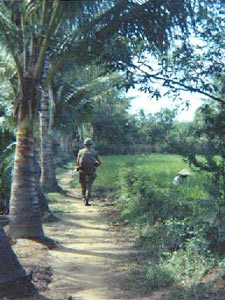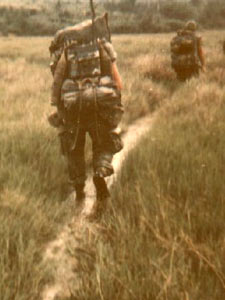 On patrol on Go Noi Island