On 27, 28, and 29 August, a complete 360 degree sweep on Con Thien was completed with minimal contact. From that day forward, during the week leading up to the elections and beyond, there was increasing evedence of NVA moving in close to Con Thien on the north, west, and southwest.
On 1 September, two companies returning from patrols received incoming artillery fire while on the move west of Con Thien. The incoming artillery also increased on Con Thien exceeding 200 rounds on some days. Patrols to the direct south of the position on 2 and 3 September encountered a recently dug in enemy position. Air strikes and coordinated company sweeps displaced the NVA from a positon that appeared to be planned as an ambush for a Main Supply Route convoy.
On 4 September, after making a solid contact to the southwest of Con Thien, a dug in NVA positon was outflanked by a maneuvering company with 37 NVA confirmed KIA and 10 probables. During the contact, enemy artillery fire was received, indicating an apparent NVA Forward Observer (FO) capability with the NVA ground troops not previously encountered in this area.
On 7 September, two companies again took incoming in the same area to the southwest after making contact while on patrol. At 1102 hours, Con Thien received three rounds of 152mm artillery from the area at YD111779. One bunker took a direct hit. Three Marines were killed and one seriously wounded. Artillery fire was returned. At 1215 hours, Con Thien received 14 rounds of 82mm mortar fire from unknown enemy position.
At 1305 hours, Company M made enemy contact with an estimated enemy squad and two heavy machine guns at YD106688. By 1325 hours, Company M reported enemy forces had increased and they were receiving enemy artillery fire. Company K, at YD108682 was also receiving incoming artillery. At the same time, Con Thien was receiving fire. 81mm mortars were fired in support of Company M contact and Company I was committed to support Company M.
By 1800 hours, contact was broken and Companies M and I moved into defensive night time positions. As a result of the day's contacts, Companies I, K, and M reported 12 friendly KIAs and 35 WIA with 11 evacuated for medical treatment. Seven confirmed enemy deaths confirmed, 12 probables were reported. The 3/4 Marines at Con Thien lost the following 16 men. The first 3 men were killed on Con Thien from the bunker hit:
During afternoon contact, the Mike 3/4 patrol had contact with an NVA unit about a kilometer south of Con Thien, losing 13 more Marines in that engagement. Official reports from the field showed 12 KIA.
Today's Army records show 13. The Virtual Wall is unable to determine which of the 11 men medevaced passed away enroute to the medical facility as none of the men's records show admission to a medical treatment facility. The 13 men lost were:
Mike Company young men. Jeff Myers on right (red arrow). If you know any of the other men, please let us know.
---
Upon his death, the Army notified the family and the funeral home received the following telegram in preparation for Jeffrey's funeral.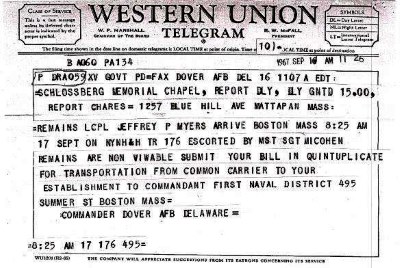 The newspaper article below that the funeral home found for Jeffrey's funeral was over 50 years old and the smudges were from being stored so long. The following is a partial translation of it as it was just too difficult to read all of it. The caption below the photo states "Mrs. Sidney Myers, mother of Lance Cpl. Jeffrey Myers is helped by Marine Sergeant after her son's funeral. He had been in Vietnam for 5 months."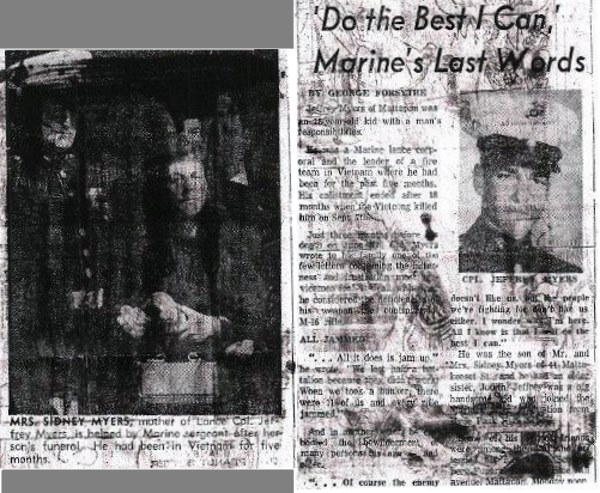 The article next to the photograph is translated below, as best can be seen under the smudges. Of note, Jeffrey was not alone in his concern over the M-16 rifle. The M16's failures in Vietnam are legendary and resulted in a series of congressional hearings. Read the full history of Army rifles and the Army's 1968 report on the M-16.
'Do the Best I can'
Marine's Last Words
By George Forsythe - - Jeffrey Myers of Mattapan was an 18 year old kid with a man's responsibilities.
He was a Marine Lance Corporal and the leader of a fire team in Vietnam where he had been for the past five months. His enlistment ended after 18 months when the Vietcong killed him on September 7.
Just three months before his death on June 8th, Lcpl Myers wrote to his family one of the few letters containing the bitterness and frustration most servicemen ...........he considered the .......his weapon the cont... M-16 rifle.
ALL JAMMED
".... all it does is jam up...." he wrote. "We lost half a battalion because they didn't work. When we took a bunker, there were 11 of us and every rifle jammed. And in another ... he embodied the bewilderment of many per...
". . . Of course the enemy doesn't like us, but the people we're fighting for don't like us either. I wonder why I'm here. All I know is that I will do the best I can."
He was the son of Mr. and Mrs. Sidney Myers of 44 Mattakeeset St., and he had an older sister Judith. Jeffrey was a big handsome kid who joined the Marines at the [recruiting] station from Hyde Park ...
---
Upon completion of the funeral, the Funeral Director sent the following letter to the US Marines, thanking them for their participation in Jeffrey's funeral service.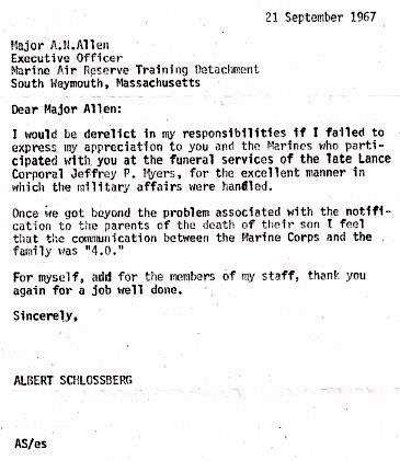 At the time of his death, Lance Corporal Myers was survived by his mother Marion and father Sidney Myers and his sister Judith all living on Mattakeeset Street, Mattapan.
Jeffrey is buried next to his mother and stepfather at Sharon Memorial Park, Sharon (Norfolk County), Massachusetts, in Section Hebron, 23, Lot 104, graves 3 and 4.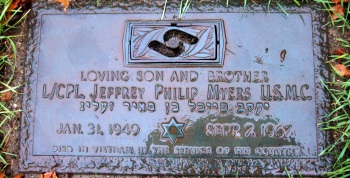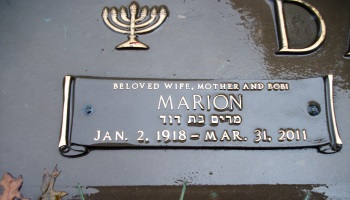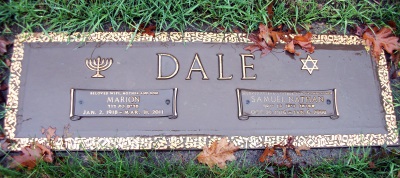 ---
- - The Virtual Wall, October 22, 2014