Company A, 3rd Battalion, 7th Infantry Regiment, 199th Infantry Brigade (Light) (Separate), was conducting a search and destroy mission on January 27, 1969 in Long An Province, South Vietnam, near the city of Tan An.
The unit was inserted by helicopter and began a sweep. While crossing a field, the company was taken under fire by enemy machine guns. During the initial fire four men were wounded. PFC Conger moved up to attempt to knock out a machine gun nest and was reportedly wounded in the right shoulder and neck. SP4 Nicholson moved to suppress enemy fire from the entrenched enemy forces. Attempts to recover Conger and five other wounded individuals at that time were unsuccessful because of a continuing heavy volume of fire.
Later in the afternoon, due to the heavy fighting, the unit withdrew from the area; they did not attempt to recover the men from the contact area during the darkness. On January 28, U.S. ground forces cordoned off the area. but an attempted sweep of the area again failed due to heavy enemy fire. As a result, U.S. artillery and aircraft shelled and bombed the area.
On the 29th, the bodies of 5 Americans were spotted by an observation helicopter lying in an open area where they had fallen the previous day, but shortly after the spotting, the helicopter was shot down. Once the area had been secured, Conger and the other individuals could not be located.
On October 13, 1969, the remains of the individuals who had been missing with Conger were found, but no trace of Conger was located. No further searches were conducted.
The unit lost a total of 6 men from this event. They were:
---
To The Virtual Wall: "Honoring and preserving lives is one of the greatest forms of respect. Without all your efforts all of these people would be lost in history. I very much appreciate the huge task you have taken on. I can't even begin to imagine how much time it must consume and, I want to thank you and everyone involved.
I have attached the NA form 13164 and General Order 663 which states the reason James was posthumously awarded the Silver Star.
Jim is buried at Montecito Memorial Park, Colton, San Bernardino County, California. He was buried February 8,1969 in space 3, section 512, Grandview.
Cemetery Marker

I don't believe his father is alive but, I think his younger brother, sister and older sister are. It is crucial to me to complete my task of preserving Jim's sacrifice to our country. Thank you for all you have done. I only have one to preserve and you have 58,000+. I truly appreciate all your efforts! "

Sincerely, Bob Webb, Jr. U.S.A.F. 1967-1971.


Bob Webb wrote The Virtual Wall in May 2014, to provide another photo and information:

"I just found the only photo I had of Jim. It was taken in January1969, probably only days before he was killed. On the back was written by him: "The Pineapple Viet Nam Jan. 1969"

I didn't know what "The Pineapple" meant . I didn't realize the significance until I read about SGT Dennis Ray Forney on The Virtual Wall. Someone submitted the what and where of January 27, 1969 and mentioned "The Pineapple" grove near Tan An, Viet Nam.

Could you please add the photo? It will help solve the puzzle. Jim mailed it to me, he was supposed to take R&R and come stay with me in Hickam AFB Hawaii. I was sent to Travis AFB for training and, decided to take a little leave and go home for a few days un-announced. I got home and my Dad asked if I came home for 'Nicki's' funeral. I was in shock! I had no idea. I attended the service and, visited with his family then went back to Hickam AFB.

It made a man out of me, I had a whole new outlook on the war and life after that! We were barely 20 years old then. We were very close friends in high school and used to goof around a lot. I'll never forget Jim, he had the greatest since of humor and most easy going guy you would ever meet. "

SP4 Nicholson working his way through "The Pineapple".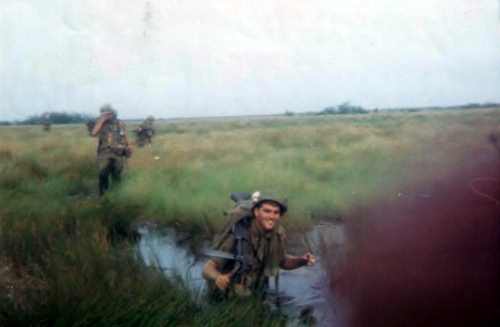 ---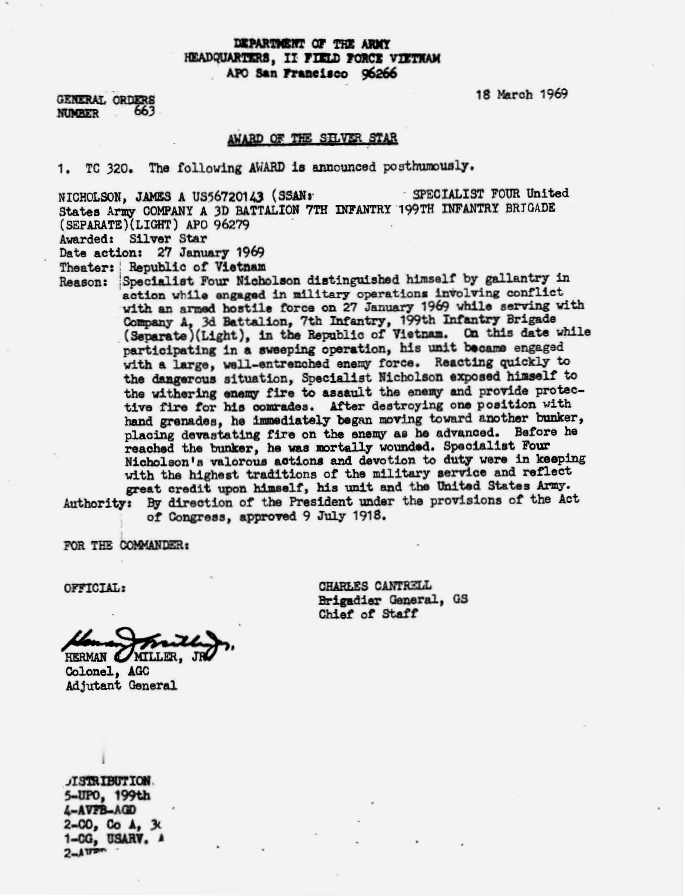 ---
James is buried in Montecito Memorial Park with his parents, Helen M Nicholson, and his father Alexander G "Tip" Nicholson.
Alexander G "Tip" Nicholson
father of SP4 James A. Nicholson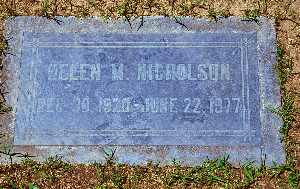 Helen M. Nicholson
mother of SP4 James A. Nicholson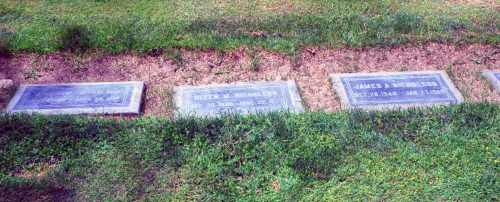 Father on left; Mother in center;
son, James on right

- - - The Virtual Wall, May 27, 2014