Elements of from D Company, 3rd Battalion, 21st Infantry were conducting search and clear operations near Vinh Huy when they came under intense hostile fire from a well concealed North Vietnamese Army force.
During the initial contact, Corporal Bradley observed two companions suffer serious wounds and immediately rushed forward to assist these men. Moving under a hail of enemy small arms and grenade fire, he quickly succeeded in reaching the casualties and skillfully began administering first aid.
Realizing that additional medical treatment was necessary, Corporal Bradley again braved the heavy volumes of fire being directed against him and maneuvered to a nearby Armored Personnel Carrier. Upon securing the necessary supplies, he started to return to the site of the casualties, but came under additional fire and was mortally wounded.
Two of the men received a Silver Star: Bradley and Retseck. It is unknown at this time whether Retseck was awarded his Silver for events prior to or after Bradley's mortal wounding. Five men were killed near Tam Ky on 07 January 1970. They were:
Prior to joining the U.S. Army, John attended Saint Mary's Catholic High School in Michigan City Indiana, where he graduated with the Class of 1967. He began his tour in Vietnam on July 5, 1969 and six months later, the local area papers were publishing the announcement of his death, similar to the following:
WASHINGTON (AP) -- Four Hoosiers were identified Monday as recent combat victims of the Vietnam war. bringing the number of Indiana servicemen killed to 1.082. The latest victims were Army Spec. 4 Roger R. Leaser, son of Mr. and Mrs. Albert Leaser of Rt.1, Eckerty, in Crawford County; Army Sgt. Norris R. Borgman, son of Mr. and Mrs. Raymond Borgman, Rt. 2, Greenfield; Army Spec. 4 John M. Rice, son of Mr. and Mrs. Martin Rice, Indianapolis; and Army Pfc. John D. Retseck Jr., son of Mr! and Mrs. John D. Retseck Sr., Michigan City.
At the time of his death, in addition to his mother, Jeanne Clarke Retseck and father John D. Retseck, he was survived by his brothers: Thomas (Mary Jo) Retseck of St John Indiana, and James (Kathy) Retseck of LaPorte Indiana, and his sisters: Mary Anne Retseck of South Bend Indiana, Nancy (Dan) Steele of Neenah Wisconsin, Barbara (Ted) Gawronski of Michigan City Indiana, Jane Siebert of Michigan City Indiana, Elizabeth (Brian) Lernihan of Rogers Arkansas, Catherine (Wayne) Buell of Michigan City Indiana, and nineteen nieces and nephews.
John was preceded in death by his brother Richard Retseck of Michigan City Indiana. John Retseck is buried with his parents, Jeanne Clarke Retseck (1920 - 2008) and John D. Retseck (1921 - 2010) in Greenwood Cemetery, Michigan City, Indiana.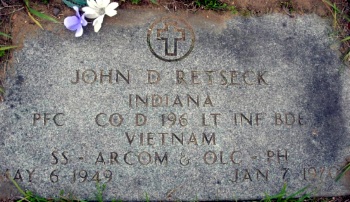 ---
- - The Virtual Wall, September 12, 2014