Ambush at Hill 512
W-SW of Ca Lu Airfield
(May 31 - June 1, 1968)
Information from the Marine Command Chronology Report for the period 1 May - 31 May 1968 shows the Battalion Landing Team (BLT), 3rd Battalion, 1st Marines (3/1), continued under the operational control (OPCON) of the 4th Marine Regiment. Operations during the period were aimed at securing Route #9 and adjacent areas within the area of operations. During this period, enemy contact consisted of chance encounters with small groups of NVA and mining and booby trap events. NVA ambushes initiated by command detonated directional mines took a heavy toll.
Moderate contacts by BLT 3/1 combat patrols during the first 3 weeks of the month indicated that enemy units of up to company size were operating in the area North of Route #9. For the last week of the month, the enemy displayed a greater capacity to deliver supporting mortar and automatic weapons fire indicating that larger units, up to battalion size were being deployed.
Intelligence reports indicated that the 9th Regiment, 304th NVA Division and the 8th Battalion, 29th NVA Regiment had been reported operating between Ca Lu and Khe Sanh. Although not confirmed, it was believed the BLT was in contact with elements of these units. During the month, nine separate rocket attacks were launched against Ca Lu Combat Base and one large attack against LSA Cameo just north of Ca Lu.
On the 31st, a platoon of Company M was ambushed by one of these NVA units, sustaining moderate casualties. Another platoon was committed and additional casualties were sustained from enemy accurate and continuous mortar fire.
The Marine incident reports show that initally, at 1050 hours, at grid XD960454, while on patrol, the platoon set off 2 improvised explosive devices, received automatic weapons fire, and took incoming 60mm mortar fire. They called in artillery support to take out the mortar site. As a result of this initial contact, 2 Marines were killed and 2 were medevaced. Another platoon was inserted to assist the first platoon that made contact.
According to the 2240 hours summary incident report, as of 1900 hours, the units were now fighting at grid XD957455. They continued to maintain pressure on the enemy positions and had retrieved their casualties. Heavy 82mm and 60mm mortar fire had continued throughout the day. The marines estimated that an enemy squad was still in a bunker being supported by mortars. More supporting arms were being brought in for the platoons. At this time, the Marines reported 6 killed and 28 wounded.
At 0625 hours, 1 June, the unit, having moved from there previous night time position, reported that at 0300 hours, they moved through the enemy position to retrieve casualties but had no contact with the enemy. The Marines began withdrawal to a landing zone to evacuate casualties. During their withdrawal, the platoons called in supporting artillery fire at 0430 hours while at XD961451. During the fire for effect to cover their movement out of the area, rounds fell short on the platoon's position. PFC Saunders was killed and 9 other Marines received minor wounds. The total killed from 31 May and 1 June action were 9 killed and 37 wounded. .
The nine men from Mike Company, 3rd Battalion, 1st Marines who died as a result of the ambush at Hill 512 were:
---
Cpl Paul Frank Sanchez was born in Globe Arizona and lived there all of his life. He last attended Globe High School and is listed as a member of the Class of 1965. Several web sites tell that Paul talked his best friend Robert Avila into enlisting with him in the Marines on 29 August 1966 at the Phoenix Recruiting Office. Paul started his tour in Vietnam on March 10, 1968. Eleven weeks later, the local area papers were announcing his death.
Local area papers reported similarly as: The U.S. Defense Department yesterday released the names of five Arizona servicemen killed in action in Vietnam and a Tucson youth who died under non-combat circumstances.
Killed in action were Army 2nd Lt. Anthony L. Bennett, son of Mr. and Mrs. Worthy L. Bennett of Cottonwood; Army Sgt. Juan A. Elias, husband of Mrs. Erminia Elias of Tucson, and Army Spec. 4 Franklin D. Pete Jr., son of Mr. and Mrs. Frank D. Pete of Miami.
Also killed in action were Marine Cpl. Paul F. Sanchez, son of Mrs. Josephine Sanchez of Globe, and Marine Pfc. Leonard L. Yazzie, son of Mrs. Ada Yazzie of Pinon.
Army Sgt. Rosalio Valencia, son of Mrs. Francisco Gonzales of Tucson, died under non-combat circumstances, the Defense Department said.
Paul was laid to rest as announced below by the Silver Belt and other area papers: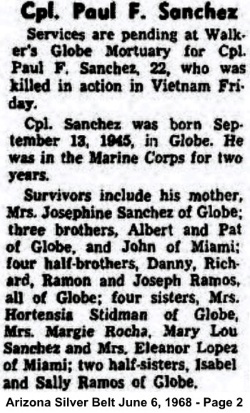 Cpl Paul Frank Sanchez was buried in Globe Cemetery, Globe Arizona as was his dad, Pat Sanchez (1906 - 1963) (Photos used with permission of Anne).
---
- - The Virtual Wall, August 29, 2014