Ambush at Hill 512
W-SW of Ca Lu Airfield
(May 31 - June 1, 1968)
Information from the Marine Command Chronology Report for the period 1 May - 31 May 1968 shows the Battalion Landing Team (BLT), 3rd Battalion, 1st Marines (3/1), continued under the operational control (OPCON) of the 4th Marine Regiment. Operations during the period were aimed at securing Route #9 and adjacent areas within the area of operations. During this period, enemy contact consisted of chance encounters with small groups of NVA and mining and booby trap events. NVA ambushes initiated by command detonated directional mines took a heavy toll.
Moderate contacts by BLT 3/1 combat patrols during the first 3 weeks of the month indicated that enemy units of up to company size were operating in the area North of Route #9. For the last week of the month, the enemy displayed a greater capacity to deliver supporting mortar and automatic weapons fire indicating that larger units, up to battalion size were being deployed.
Intelligence reports indicated that the 9th Regiment, 304th NVA Division and the 8th Battalion, 29th NVA Regiment had been reported operating between Ca Lu and Khe Sanh. Although not confirmed, it was believed the BLT was in contact with elements of these units. During the month, nine separate rocket attacks were launched against Ca Lu Combat Base and one large attack against LSA Cameo just north of Ca Lu.
On the 31st, a platoon of Company M was ambushed by one of these NVA units, sustaining moderate casualties. Another platoon was committed and additional casualties were sustained from enemy accurate and continuous mortar fire.
The Marine incident reports show that initally, at 1050 hours, at grid XD960454, while on patrol, the platoon set off 2 improvised explosive devices, received automatic weapons fire, and took incoming 60mm mortar fire. They called in artillery support to take out the mortar site. As a result of this initial contact, 2 Marines were killed and 2 were medevaced. Another platoon was inserted to assist the first platoon that made contact.
According to the 2240 hours summary incident report, as of 1900 hours, the units were now fighting at grid XD957455. They continued to maintain pressure on the enemy positions and had retrieved their casualties. Heavy 82mm and 60mm mortar fire had continued throughout the day. The marines estimated that an enemy squad was still in a bunker being supported by mortars. More supporting arms were being brought in for the platoons. At this time, the Marines reported 6 killed and 28 wounded.
At 0625 hours, 1 June, the unit, having moved from their previous night time position, reported that at 0300 hours, they moved through the enemy position to retrieve casualties but had no contact with the enemy. The Marines began withdrawal to a landing zone to evacuate casualties. During their withdrawal, the platoons called in supporting artillery fire at 0430 hours while at XD961451. During the fire for effect to cover their movement out of the area, rounds fell short on the platoon's position. PFC Saunders was killed and 9 other Marines received minor wounds. The total killed from 31 May and 1 June action were 9 killed and 37 wounded. .
The nine men from Mike Company, 3rd Battalion, 1st Marines who died as a result of the ambush at Hill 512 were:
---
PFC Joseph Edward Lauer was the only son of Catherine E and Clarence J and Lauer on Winding Way, Gibbsboro, New Jersey. At the time of his death, Joey, as his father called him, the youngest child was survived by four sisters: Catherine (Charles) Kane of Philadelphia; Joan (James) Romano of Lindenwold; Mary Huber of Berlin; and Arlene (Frank) Lomento of Haddon Township.
Joseph belonged to the Class of 1967 and was in the first graduating class of Eastern Regional High School. He was involved in varied school activities as a member of the Drafting Club, Drama Club, Grid Club, Gymnastics, and Varsity Club.as a member of the baseball and football team.
After graduating from Eastern, Lauer enlisted in the US Marine Corps and volunteered to go to Vietnam, starting his tour on May 8, 1968. Twenty-three (23) days after arriving in Vietnam, he was tragically killed as a result of the mortar fire his unit encountered.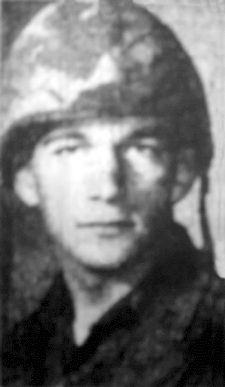 His legacy still prevails through Eastern Regional High School and his community. In Gibbsboro, a memorial park and a street have been dedicated in Lauer's memory. Read about the May 1993 'gaffe' in the tribute effort when they renamed a Gibbsboro street near Winding Way to Lauer Lane. In the Gibbsboro American Legion Hall, a showcase memorial pays tribute to his life. On May 21, 1998, 30 years after Joseph Lauer's death, Eastern Regional High School held a memorial assembly for the entire student body to recognize and remember this student that sacrificed his life for his country.
In 1968, the youngest of the five children of Clarence J. (Joe) Lauer, Joey was old Joe Lauer's only boy. Old Joe Lauer, who was 50 then, could be bitter about the war, but he was an extraordinary man. He said he was not bitter at all because he says his family knows that their boy did not die in vain.
Joe Lauer was not a writer by trade. He's was in the retail fish business. He operated a fish market in the 2700 block of North Front Street in Philadelphia, but old Joe Lauer was more than a fish market operator. There was a whole lot of old-fashioned American patriotism in him.
When he got word on June 3rd that his son was killed, Joe Lauer wrote a letter to his customers at the fish market and tacked it up in the window. 12 Days later, when young Joey's body arrived, old Joe Lauer put another announcement in the window of his fish market. It read: "Our Joey is Home. Viewing Friday evening June 14th. Mass and burial, Saturday June 15th. Viewing from our home, 49 Winding Way, Gibbsboro, New Jersey."
There were six small American flags jutting up from the lawn, and there was a black wreath on the door frame. Joey's friends were tip-toeing into the white shingled house on Winding Way and kneeling in prayer at the glass-covered casket that was draped by a huge American flag. There was a floral wreath next to the casket. It was made up of red carnations and it was shaped in a big heart with a red satin ribbon with gold letters that read "Joey Forever".
Joey was laid to rest in Gate of Heaven Cemetery, Berlin, Camden County, New Jersey. Read the full story of Joey's homecoming and burial in the article titled: "A Father's Proud Requiem for his Only Son" here.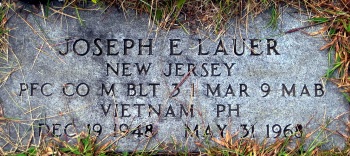 ---
- - The Virtual Wall, September 3, 2014