"I am the youngest brother of PFC John Joseph Victory. I recently was able to get John's official US Army Photograph digitized and was wondering if you could add it to page on the Virtual Wall. I am attaching it with this email - I hope that is okay."

"John was my big brother, 8 years older than me. He was a great guy who could play music by ear. He bought me my first guitar. He was also a great carpenter. He had made my mother a very large shadow box when he was in high school. That same box is still hanging on the wall of my house."

"My older brother George was two years younger than John. George was in the Marine Corps when John was killed in Viet Nam. Both of my brothers were and are terrific human beings and John's death was a huge blow to our entire family."

"Through all these years I have never met anyone who had anything negative to say about my brother John. To know him was to know a great human being. One of the great regrets of my life is that I never got to sit around and have a few beers with my big brother. I am sixty now so maybe one day soon I will finally get that chance."

"John is buried in Holy Sepulchre Catholic Cemetery, 6001 W. 111th St., Alsip, Illinois. He is not buried in the military section, but is buried between our mother and father John Thomas and Helen M Victory. I have been going there since I was 13 so I have always been familiar with it's location. His grave is located near the southern and western most corner of the cemetery very close to the intersection of Ridgeland avenue and 111th Street."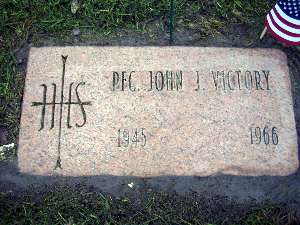 -- Jerry Victory, brother
Elk Grove Village, Illinois, April 2013