During a training session outside the base camp with other members of his unit, an enemy booby trap was detonated, killing 6 men. Those killed in the explosion were:
---
At the time of his death, SP4 Moore was survived by his mother Ellen E. (Lind) Moore (1904-1994), father Harry Clyde Moore (1897-1994), sister Gladys Patricia (Moore) Grenon (1935-2002) and brother Paul Clyde Moore (1941-2003).
As of 2002 at the time of his sister's death, he was survived by family as noted above and his brother-in-law Gene J. (G. Patricia) Grenon; and six brothers, James G. Moore of Melbourne, Fla., Franklin D. Moore of Sarasota, Fla., Edmund K. Moore of Rand, Calif., Roger A. Moore of South Abington, John T. Moore, Gardner, and G. David Moore of Westminster; two sisters, Phyllis F. Maki of Westminster and Dorothy F. Wilson of North Woodstock, N.H.; nephews and nieces; grandnephews and grandnieces.
He was laid to rest in Wildwood Cemetery, Gardner Massachusetts. His parents are buried with him.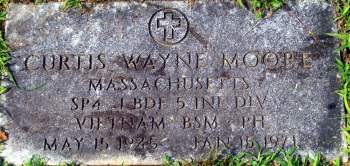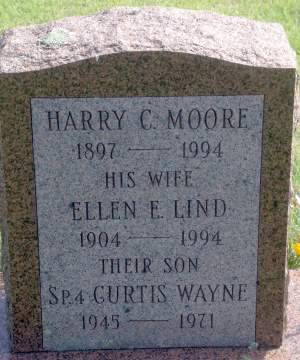 ---
Our Veterans' names carved in stone and bronze remind us of the high price paid for loyalty and valor. Memorial Day is a good time to walk in cemeteries and to remember the dead with gratitude.
---
- - The Virtual Wall, September 17, 2017