D Company, 1-11 Infantry relinquished responsibility for the security of FSB Fuller to the 2nd ARVN Regt, and departed FSB Fuller by foot. While enroute to the Khe Gio Bridge, sporadic 120mm and small arms sniper fire was received. Six (6) men were killed when the military aircraft was fired upon by a hostile enemy and it crashed and burned while attempting the evacuation of wounded soldiers near the DMZ. Lt Schmitz was the pilot. The men were:
D Company, 1st Battalion, 11th Infantry Regiment, 5th Infantry Division

237th Medical Detachment, 67th Med Group, 44th Med Brigade, USARV
Phillip Schmitz was born to Everett J. and Margaret Schmitz and he grew up in Minnesota, where his father had settled in St. Cloud and started his surgical practice there. Dr. Schmitz received his surgical training at the University of Washington before he started his practice so when he retired in 1989, he and his wife moved to her family home in Olympia, WA.
According to the 2004 obituary for Dr. Schmitz, he was survived by his wife of 63 years and two daughters, Carol and Lynne. It noted that he was preceded in death by his son Phillip and his brother Glenn.
First Lieutenant Phillip Nicholas Schmitz was laid to rest at Fort Snelling National Cemetery, Minneapolis, Hennepin County Minnesota.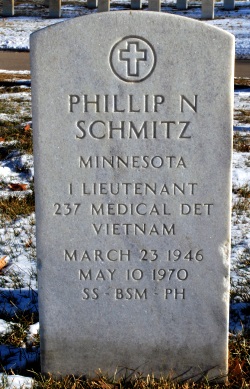 - - - The Virtual Wall, May 27, 2016